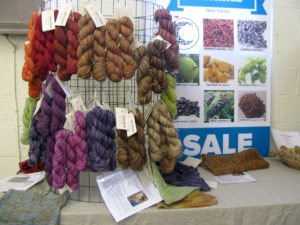 At this recent MD Alpaca Festival, November 12 and 13, at the Howard County fair grounds, I introduced some new yarns and had a sale for old yarns.  Since I am running this little company by myself, I cannot do everything.  So I decided that in order to GROW as a company and try new things, I'll have to let some things go for a while.  Everyone LOVED my sale on Semi-Solids and Multi-colored yarns.  I sold more than half of them.
My new yarns were Alpaca-Silk, Cashmere-Silk, 100% Merino, and fingering yarns in 80% wool, 20% nylon.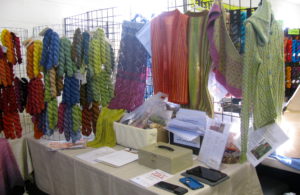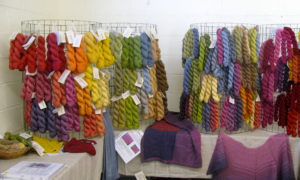 These new yarns generated interest but not many sales so I am adding them to my store.
After about 12 months of feeling like a zombie about the business because of so many family health issues, I am finally ready to put energy into ColorStorms. (My mother is finally doing better!)  I have to give some credit to my new neighbor Terri, who came over one day to give me lots of input. Terri and I are walking buddies, and we soon discovered she likes to knit too.  We started a neighborhood knitting group and she has greatly supported my business this past month.  Not only did she help me dye the new fingering color "Western Horizon", but she spent all of Saturday with me at the booth!
CHANGES:  After trying out Alpaca-Silk, Cashmere-Silk, 100% Merino, and fingering yarns, I have decided to definitely open a new line of fingering yarns.  I'll continue offering the worsted yarns too, but perhaps only in solids and gradients for now.  The merino-tencil base is still available and it dyes beautifully so I'll continue that. The alpaca-wool is harder to find now; my sources are drying up.  Should I replace it with something similar?  I will if I can, especially if I can find a local source.  I am presently looking for a local and cheaper source of yarns so I can lower my prices. And I'm working toward dyeing bigger lots of yarn so I can lower my prices.
Lots of interest was generated for a Dye Seminar as well.  So I am actively putting that together.  I'm looking to do that in late May. When I have a firm date, I'll post it.  Here you can see details of what your day would look like at a 6-Hour Hands-on Dye Seminar with me.
Natural Dyeing Workshop
9am
Begin simmering black walnuts and madder root
While those are simmering:
Lesson on HOW to natural dye: preparation of materials, mordanting, etc
Perpare apple bark
Lesson on TECHNIQUES to prepare yarn
Prepare yarn (already mordanted) for various forms of multi-colored or solid color dyeing.
10am
Start the apple bark simmering
The black walnuts and madder root cool down.
We will dye:
Logwood and cochineal
11am
Apple bark cools down
We prepare pokeberries and discuss that technique.
We will dye:
Fuschia with pokeberries
Red with pokeberries
12pm
Lunch break
Lesson on how to dye blue with black beans
1pm
Dye the black walnuts, madder root
Dye some more of the Logwood and cochineal for a multi
Lesson about dyeing with turmeric and how to choose colors
2pm
Make turmeric dye
Dye some of the blue hanks into turmeric
Due some of the madder root yarn in the turmeric
Dye some of the blue hanks into apple bark dye
Dye some of the pokeberry yarns into apple bark
3pm
End
Everyone takes home 1 solid and 1 multi (2 -50g hanks of fingering weight wool- 400 yards total) and a pattern
Yarn is from a Franklin Cone, 75% wool, 25 % nylon, machine washable