Any out of stock items can be ordered and fulfilled within two weeks. Email me at artylinda@gmail.com to place your order.
Featured Dye
Indigo 
This is a wonderful dye!  It took some learning, but with the help of a kit from Woolery and a Dye Class, I learned how to make various shades of blue and green that are lightfast and gorgeous.
Featured Yarn
Fingering Yarn, "Winter Sky"
Repeated dipping in the indigo builds up the darker shades.
Featured Pattern
Mitered Square Vest and Instructional Video
This is a revised pattern I originally wrote 8 years ago.  It now has better pictures, a help video, and all stitches are picked up from the right side of your work.  The pattern requires a lot of precision, so I included helpful hints to knit this beautiful work of art.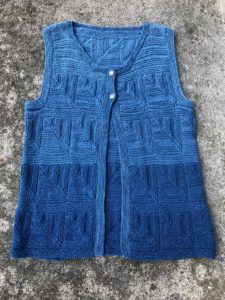 Latest News
---
Click below to go to Osborn Fiber Studio, our partner in yarny adventures.

Click below to go to Timber Creek Farm, a new partner in yarny adventures